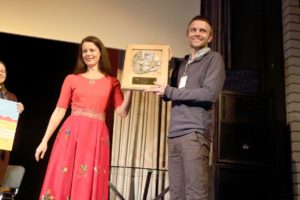 Are Pilskogs padder høster ære og berømmelse
Ares film 'Kunsten å leggje seg paddeflat', var opprinnelig 60 minutter og vist på NRK. Are laga en ny versjon på 50 minutter, 'A toad story', som no vert distribuert rundt på filmfestivalar av NFI. Det var denne versjonen som vant 2 priser på ein av Europas største naturfilmfestivalar, Matsalu Nature Film Festival i Estland. Beste regi i kategorien Man and Nature og hovudprisen for beste film på heile festivalen (The Grand Prix).
Her er Juryens begrunnelse:
Best of festival GRAND PRIX
Great films stay with us long after we've walked out of the cinema and inspire us to think about our place in the world.
The winner of the GRAND PRIX does just that, it's an amusing and uplifting film that shows how passion for nature, even for an odd little creature, can make big things happen. The winner of this years Grand Prix is… A Toad Story.