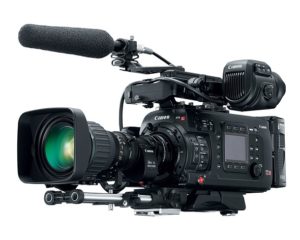 Nytt flaggskip fra Canon. Det måtte komme. Mange trodde Canon hadde gitt opp det profesjonelle videomarkedet. Så feil kan de ta.
4k opp til 60P, og 2k opp til 240p, Global Shutter og 15 blendetrinn Dynamic Range. Du kan bytte mellom EF mount og PL mount.
Med Codex CDX-36150 recorder kan du ta opp high-speed 4.5K RAW recording opp til 100FPS, 4K RAW opp til 120FPS, 4K ProRes at up to 60FPS, 2K ProRes at up to 240FPS and XF-AVC at up to 60FPS.
Dual Pixel autofokus kan kanskje være noe for naturfotografer.
Prisen starter rundt Nok 320 000,-
Ta kontakt med Video4 for å høre når den er i handelen.